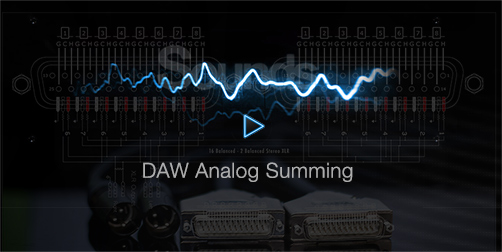 Summing Cable | Studio-Grade | Passive | Analog Audio 16 Balanced IN | 2 Neutrik XLR NCMXX Balanced OUT
Shortest signal path with precision resistors network bus. Signal mixing using physical wires like in vintage & classic mixing consoles via buses. Hand point to point soldering.
The affordability is due to its radical simplicity. Why are there no switches/knobs? How do I pan the inputs?
You may have noticed that typical summing boxes are rather expensive, despite containing limited circuitry. This is mostly because they feature panning knobs or switches. In addition to being expensive themselves, these controls necessitate a larger front panel, case, and circuit board. We bypassed all of these costs by leaving the control of tracks panning to your DAW. All input is hard-wired to one of the output channels: odd-numbered inputs to the left, and even-numbered to the right. You simply send pre-panned stereo buses to your interface's hardware outputs and connect them to the mixer.
Limited availability. Limited Edition. When is sold is sold. Constantly we post new models if they are available.
◉ Now you can add to your mix:
Stereo separation, Transparency, depth, panning, DAW total recall, purest analog signal mixing.


◉ Hot to use it?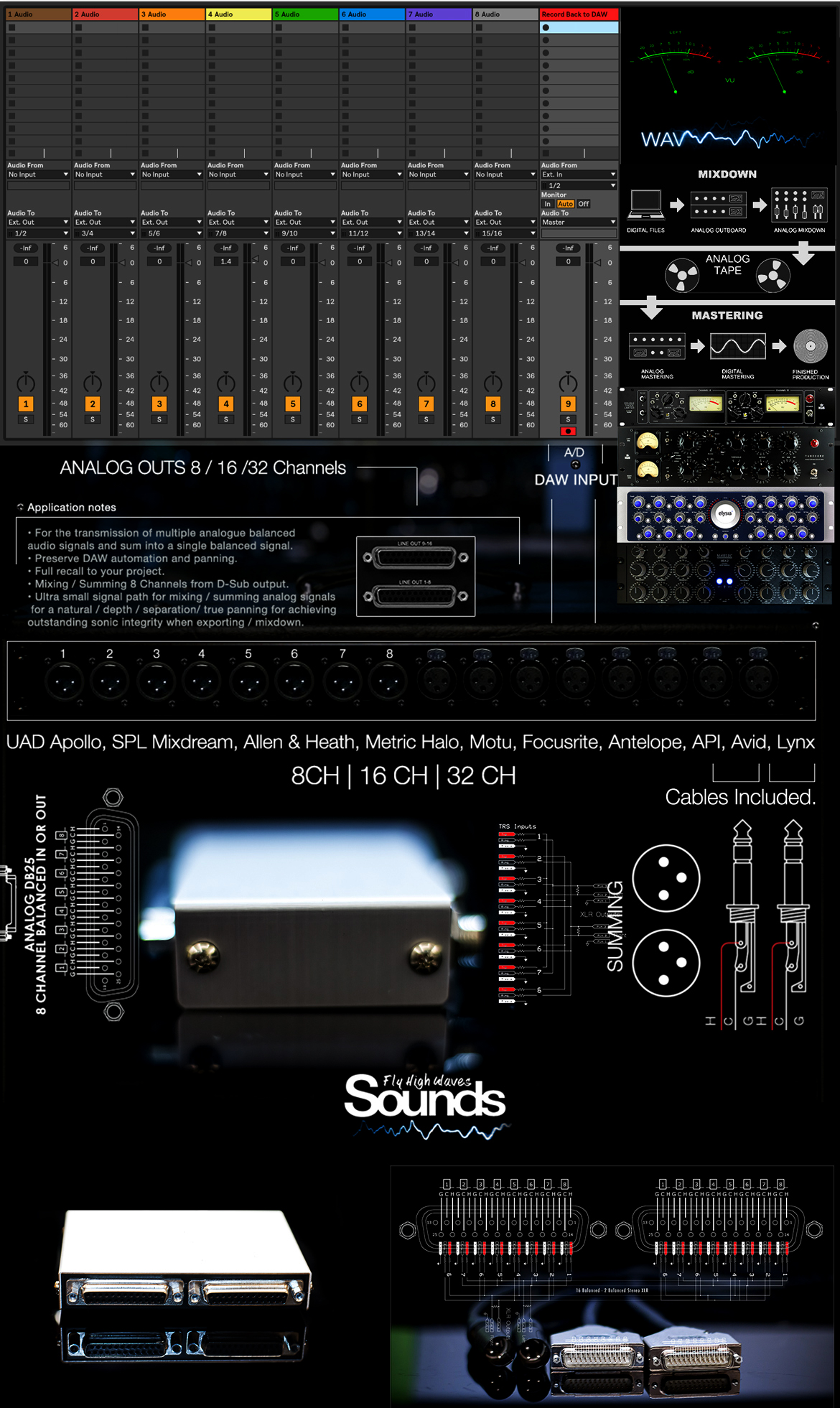 ◉ 1 St setup:
Insert 8 new channels to your favorite DAW, send each channel output externally to your sound interface outputs. 1/2 3/4 5/6 /7/8 The mono channels you can send them separately into a single output. The signals will be sent at digital 0db and increase the output signal. Driving the circuit you will get the distortion associated with analog circuitry. Soft clipping may occur. The 8 signals are connected into the summing mixer using D-Sub cables that are available in studios that have these sound interfaces. A D-sub – D-Sub cable will be enough for connection. You can get them as well professionally made with your need. The output is balanced and can be inserted in preamps, compressors or a complete mastering chain we like to use it. The signal from the last device is recorded using daw, tape, daw A/D converters. You need a stereo balanced input. Any mixer can be used to process the output. Instead of using an analog mixer with faders you can make all automation in your DAW witch will be recallable later if you decide to work more on your project. Any outboard gear can be used to boost the signal as well on a level that can be recorded in your DAW.
◉ 2nd Setup:
Feeding the mixer backward you will get 4 stereo copies of the signal which can be processed individually in your favorite sound processors in realtime with no latency and captured with another box. This way you have a send return chain for an original process of the sound.
◉ 3rd Setup proposition is about external analog gear like synthesizers, drum machines. In studio or in a live situation you can collect all of your devices into a balanced output that you can get and eliminate the mixer. All these synths have their own level knobs. The signal path is simple and short and noisy IC amplifiers are eliminated. You can have a master chain and send it for amplification.
◉ Pay it, test it, keep it or return it. When is gone is gone. Some other designs are available as well time to time.


Other models are available in Limited Edition.

Features & Benefits & Design
1.35 Meter Mogami Japan loom W2932 & Neglex 2534 Starquad Shielded Hi-End Balanced Cable.

2X XLR Neutrik NCMXX.

16 Inputs via 2X DB25.

2 Outputs Jack TRS Balanced 2 Channels.

Analog Passive.

Precision Network Resistors inside.

Studio-grade.

Balanced Inputs and Outputs.

Audio Grade Solder.

Input Impedance 10k balanced.

Output Impedance 150R balanced.

Crosstalk (1kHz) <-80dB.

Attenuation 45dB.

Load Impedance Range Recommendation 10 – 1.5k – 20k.

15k (Standard mic preamp input).

Source Impedance 100R (standard line output).

Silver over chrome plating connectors.

Gold Plated DB25 Pins.

Screened cable. Zinc D-Sub shell.

Free UK Shipping.

International Shipping.
What is Analog Summing Anyway?
 
Before we dive into an explanation of analog summing, it's helpful to understand what analog summing is. Summing is the process by which all of the tracks and busses in a song are combined into one stereo track.  This may sound a lot like the definition of "mixing," but summing is a different process than mixing.  Mixing is the work that a mixing engineer performs through level adjustments, panning, equalization, and so on in order to make a mix ready for release.  Summing is simply the work that your DAW or console does to turn the different tracks that you have prepared with EQ and other effects into one stereo track. 
 
For many people, the summing process occurs completely in-the-box and happens while bouncing down a final mix.  You can choose to bounce it down in real time or expedite the process, but in either case, your DAW is crunching 1's and 0's to produce a stereo file. This is a digital summing. We do it analog.
 

Ableton Live 10 Template 16 Outputs (DOWNLOAD)
Logic Summing Setup