Mid/Side EQ In Mastering
Mid/Sides (or M/S) recording techniques are favoured by many engineers for a number of reasons during the recording, mixing and mastering stages, and it's the last that we'll look at here.
Mastering is always a hot topic. Most of us love to use the latest technique to make our masters bigger, badder and usually louder. Unfortunately, not all mastering techniques get as much airtime as others, and M/S processing is one of these lesser known subjects.
It's likely that a lot of producers who do their own mastering won't be aware of M/S processing and its benefits. If you're not taking advantage of what this technique has to offer you could be missing out, so let's take a look at how it works and its practical applications.
Understanding the Stereo Field
In mixing terms there are 2 different channels: Left and Right. This is what is called the stereo field. Certain instruments play on the left, while others play more to the right. There are some instruments that will play a mono channel. The mono channel is defined by sounds that play the exact same sound over left and right. When this happens it is also called the Center.
In this context the sounds that appear on the left / right will be called the Side channels. While sounds that sound mono (center) will be called the mid channels.
Many people use Mid/Side processing at the end of their mix or during mastering to adjust stereo width or create interesting and musical effects. Mid/Side processing will influence the sound quality of your production, and this article will discuss some common processing options.
Probably the most popular use for Mid/Side processing is to adjust the stereo width of a sound or a whole mix. Very briefly, stereo width is created when you have two speakers, and there are differences in what you hear between the left and the right speaker.
USING MID/SIDE PROCESSING TO ADJUST STEREO WIDTH (AND LIMITATIONS)
The easiest way to adjust width using Mid/Side processing is to either give the Side channel a boost, or lower the Mid channel. This will exaggerate the amount of "Difference" information that you hear (recall in Part 1 that Mid/Side is really "Sum and Difference"), which can widen the stereo field, depending upon how much stereo information exists within it. Conversely, if you boost the mid channel relative the side, you can narrow the stereo width. You can adjust the width somewhat selectively as well, using equalization. You may have heard of "Stereo Shuffling" which combines this approach with EQ so that you are giving more of a boost to the Side channel in certain frequency ranges (usually below 650Hz).
The main limitation with using Mid/Side to adjust width is that you cannot control which mix elements you adjust. If your mix did not contain enough stereo width information to begin with, using Mid/Side will only diffuse whatever image you captured or created in the mix. If your mix is relatively narrow but contains stereo reverb, widening it with Mid/Side processing will only cause your mix to sound washed out, losing impact.
Again, it's because you won't have control over what gets widened.
Mid/Side EQ allows you to equalize the Mid channel separately from the Side channel. Whenever you use Mid/Side EQ, you are adjusting the ratio of the Sum and Difference information in your mix. For example, boosting the upper midrange in the Mid Channel can help clarify the vocal region increasing the sum information relative to the difference information in that range. This reduces the stereo width in that range as well, which may noticeable depending on the mix.
EQ'ing using mid/side technique at the mastering stage allows us to apply different EQ settings to the mid and side signals and can help us fix problems or optimise the tonal balance of certain mixes. Typically the mono information of a mix would include elements such as the voice, kick drum, bass, and using this technique we can effectively EQ them without affecting the stereo information.
A good example is if we need to add some top end to the vocal, in some cases the boost can make other elements in the mix (i.e. cymbals or guitars) sounds too brittle or thin. Using an EQ in M/S mode will allow us to treat the vocal accordingly without affecting the other elements.
Another example is when dealing with a mix with too much bass or kick, using mid side EQ we can re-balance and tighten the bottom end without affecting the stereo separation of other elements.
In some cases, we can use multiband compression in M/S mode. Let's consider for example a lead vocal that overpowers the rest of the instruments, we can compress the mid-range of the mono signal to keep the vocal under control without affecting the lower and higher range of the mix.
We could also achieve a more controlled kick drum by only compressing the low frequency range of the mono channel.
When you change the ratio of Sum and Difference information in different frequency ranges with Mid/Side EQ, you can inadvertently create audible changes in width over the scale and it often won't sound musical. To avoid this, Is recommended using small (0.25 to 1.5dB) broad EQ changes (wide bandwidth, low filter slope).
Many EQ's change the phase of the signal you are adjusting. This is important because with Mid/Side EQ if you alter the phase of the Mid channel differently from the Side channel, you will impact the integrity of the original stereo image. This is less critical for multi-track mixes, but can be a real concern for stereo and binaural recordings. To minimize problems caused by phase changes, I again recommend using very small and broad EQ adjustments. Using a Linear Phase EQ is also a great option because it will not shift the phase.
Sometimes you will achieve much better results by improving stereo width inside your mix. In case of a bounced mix for mastered you will work with that you have.
Here are a basic ideas to help you improve stereo width within you mix:
Pan wider: Place certain elements further to the left or right, and only keep elements in the center that need to be there (for example, the lead vocal, the bass and the kick). If you have any tracks in the mix that were recorded in stereo, pan them left and right.
Apply different EQ settings between the left and the right: This can help pull apart similar sounding electric guitar tracks. For example, boost the synth track a bit in one area, and apply the reverse of that EQ adjustment on the right guitar track, and then adjust the gain levels to balance them.
Which Plug-ins Support M/S Technology?
There is one small downside in all of this and that is the fact that there aren't too many plug-in manufacturers developing in this area. Luckily the ones that are do it very well and the results they produce are often really impressive.
The German company Brainworx appears to be the current leading authority on plug-in based M/S processors. They have an impressive array of products ranging from the free 'bx_solo' to the excellent, full blown 'bx_digital'. The bx_solo allows beginners in this field to get a taste of what the process is capable of without spending a penny, well worth a download. You can also download 14 day demos of all their plug-ins at their website.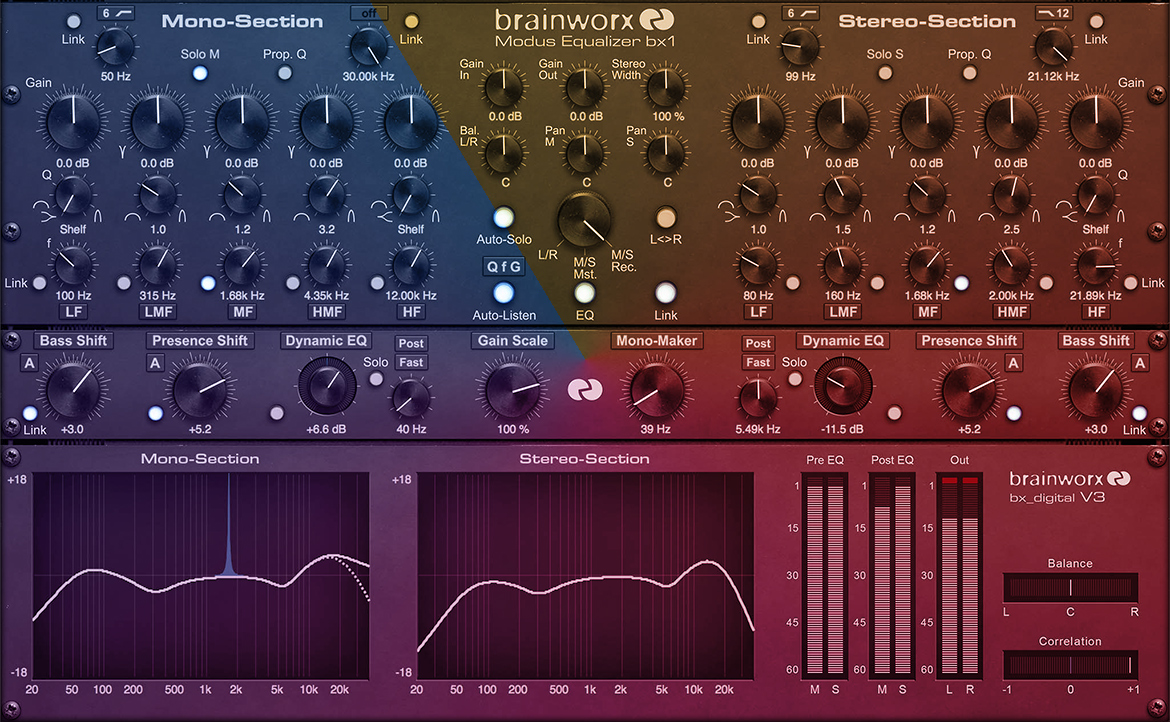 The bx_digital is a bit of a monster and incorporates a full M/S matrix, an EQ for both mid and side elements, de-essers, a 'mono maker' and even high and low end enhancers. Bar dynamics control there is not much you can't do with your mix here.
Try this settings on any track:
Mono Maker: 150-200 Hz (Mono the low end)
Bass Shift / Presence Shift: Adjust on your taste for balance.
Make a boost in Stereo Section and "hunt a frequency that you feel in tune" (An instrument or just a sweet spot)
Like this you can correct also the focus of a certain element or unmask / widen let's say the pads / ambiance.
Use this settings as a start point and tweak the settings.
Basic M/S Processing in Mastering
The main thing you will find useful during a mastering session is the M/S processors ability to raise and lower the level of stereo or mono information in your mix. I often find that by boosting the stereo information by just a few db, the mix is given a lift and a wider, more open sound is imparted to the track.
You may want to make more precise adjustments than just a general stereo width enhancement. Imagine your mix has been recorded with a mono lead vocal but it was mixed too high, giving the overall track a very narrow feel. By reducing the level of the mono material with the M/S processor you should be able to go some way to rectifying this. If you find this effects other levels too much you may need to go back to the mix or seek out other options.
Brainworx include other useful tools for basic processing of your tracks. The mono maker for example will take any audio below a certain frequency and make it strictly mono. I find this often gives a track a more focused and coherent low end mix. It also allows you to process this new area in the mono section and gives you the piece of mind that you won't color other instruments when doing so.
Using M/S Based Equalization
Another advantage of having control over the mid/side portions of your mix is the ability to equalize them independently.
This can allow you the freedom to enhance the upper mids of stereo strings, or even reverbs, whilst leaving the mono, core instruments untouched. Or you could enhance the low end of your kick and bass and roll off some top end from stereo percussion or backing vocals. These can be indispensable tools during a challenging mastering session.
Another great trick here is to use the high pass filters to remove the low end from the stereo signal. When this is used in conjunction with the mono maker you can be 100% sure that the very low frequencies in your mix are focused and in mono.
To Conclude About M/S Processing Other M/S processing techniques
It is important to remember that when using M/S technique we affect the stereo image and we can use this to our advantage. When a mix is too narrow, we may find that the reason is overlapping frequencies which create resonances and muddiness in the mono information. Using appropriate M/S EQ, we can improve the definition of the stereo image.
There are other M/S techniques that you can use at the mastering stage including M/S compression, M/S limiting, M/S reverb. Each of those techniques can be extremely useful to deal with mixes that have some major problems.